Materials
Condition of off-limit areas in March 2020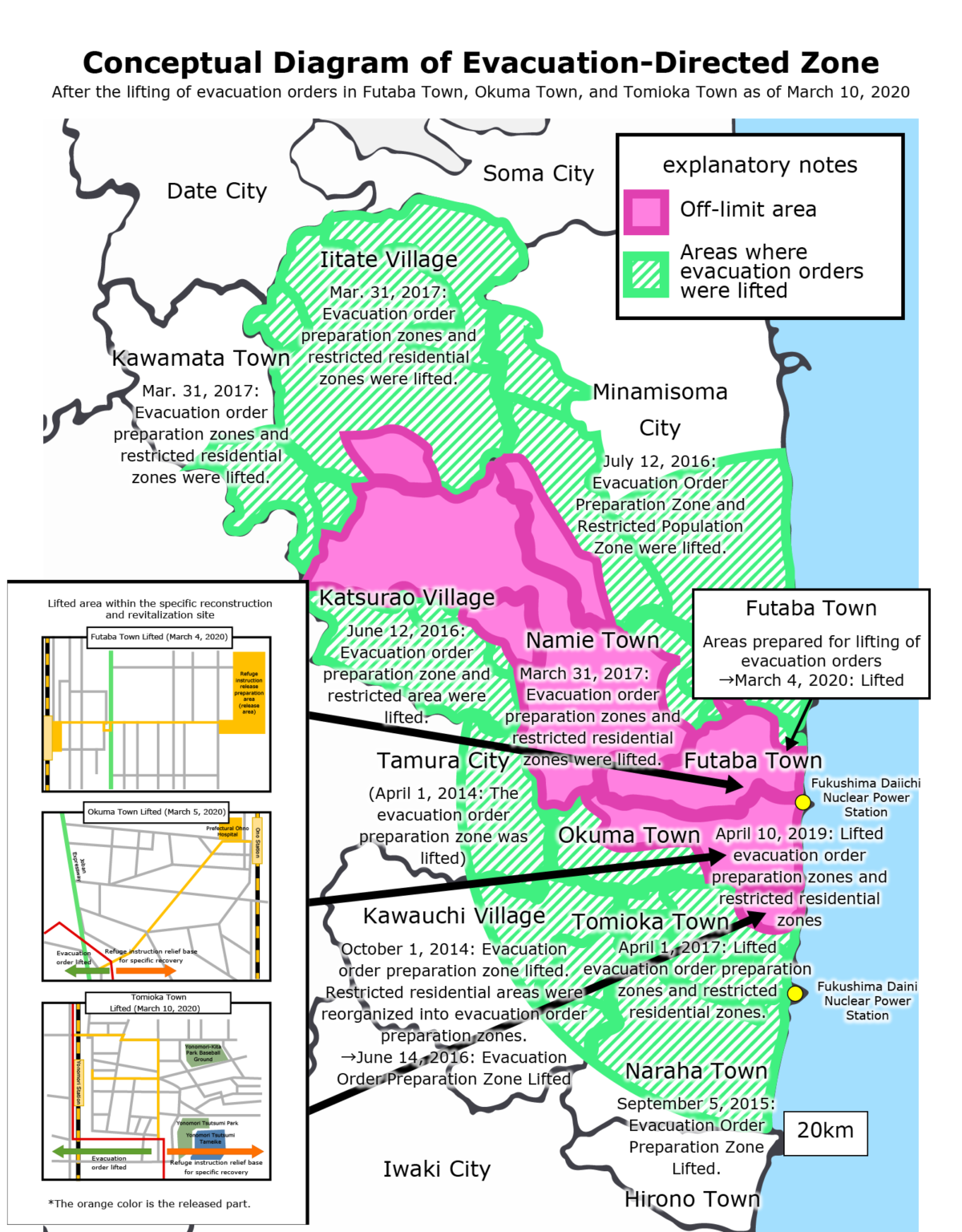 Most of Iitate Village was lifted from the evacuation order preparation zone and restricted residential area, but there is a part of the village (Nagadoro area) that is still difficult to return to.
Similarly, Minamisoma City was lifted from evacuation order preparation zone and restricted population zone, but there are still off-limit areas in Namie Town and other adjacent places.
All evacuation order preparation zones and restricted residential zones in Kawamata Town have also been lifted, and there are no off-limit areas.
Only 20% of Namie Town was lifted from evacuation order preparation zone and restricted residential area, leaving 80% of the town having off-limit areas.
Also, most of the restrictions for Katsurao Village were lifted, but the area adjacent to Namie Town still remains off-limits.
Most of Futaba Town remains under the restrictions.
Okuma Town is about 50/50.
Most of Tomioka Town is restriction free but there is an off-limit area in Okuma Town and some adjacent areas.
The evacuation order preparation zone and restricted residential area in Naraha Machi and Kawauchi Village were lifted, and there is no off-limit areas.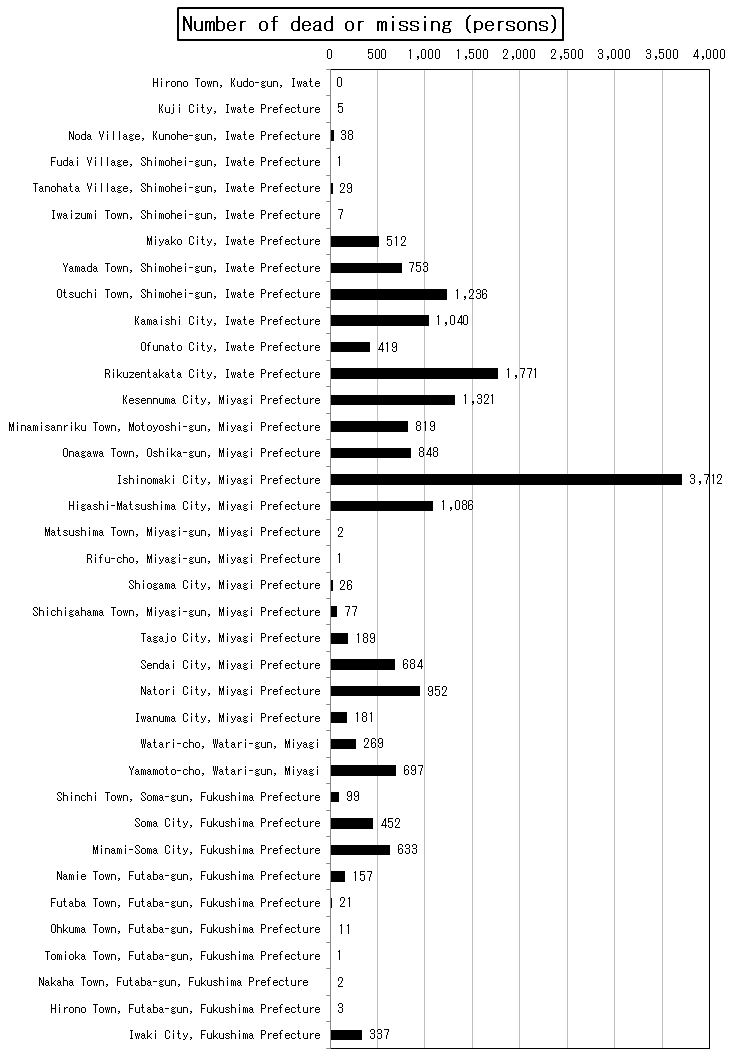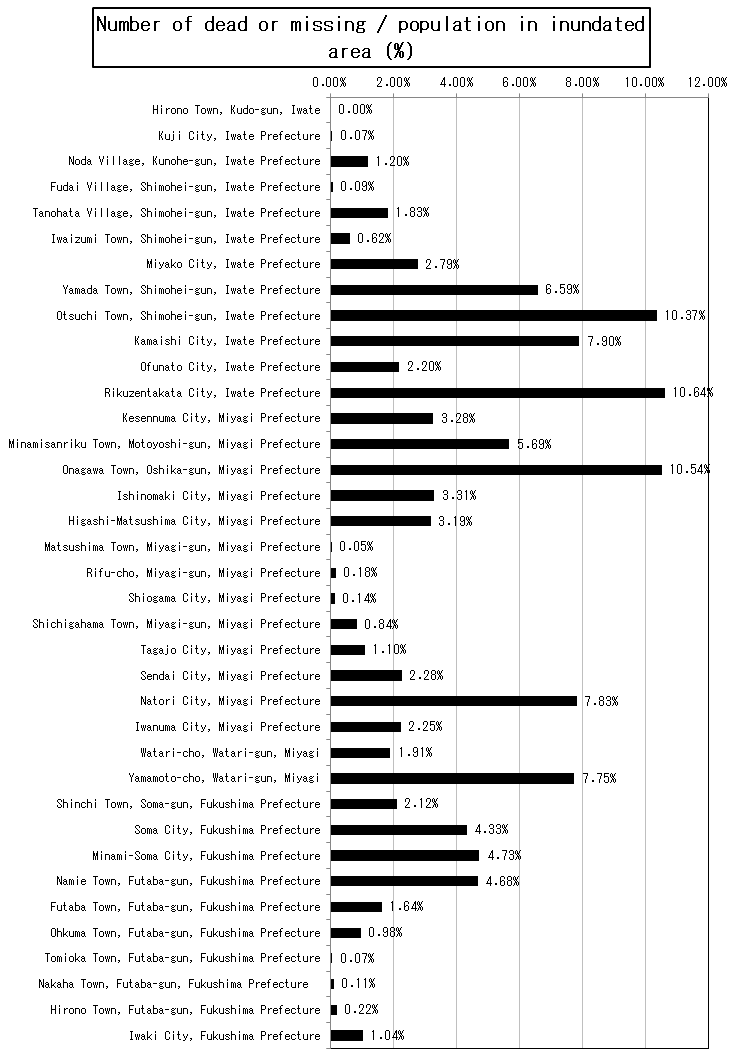 Reprinted from the Rikuzentakata City East Japan Earthquake Verification Report
Resident Opinion Survey in Nuclear Affected Municipalities in 2019
Excerpts from the survey results (summary)
Intention to Return by Age/Generation

Regarding the willingness to return, by age/generation, generally the higher the respondent's age, the higher the percentage of those who answered "have returned" and/or "would like to return".

Current Housing Situation

Regarding the current housing situation, other than those who have returned to their original homes/municipalities, the percentage of respondents who answered "emergency temporary housing (prefabricated, free of charge)" or "emergency temporary housing (rented, free of charge)" decreased in each town and village.
The percentage of respondents who answered "owner-occupied (owned by you or your family)" increased in each town/village, with approximately 60-80% of respondents acquiring owner-occupied houses.

Necessary Conditions, Determining Return

For those who responded that they "have not yet made a decision" in terms of their willingness to return, "re-opening of medical care, nursing care, etc." was the most common condition necessary for them to make a decision to return, followed by "radiation levels," "re-opening of commercial facilities," and "status of returning residents"

in most of the municipalities.

Reasons for deciding NOT to return

The top reasons given by those who answered "will not return" for their decision, included: "I have already established a foundation for my life elsewhere," "It is more convenient to live in the evacuation area," and "I am concerned about the medical environment".
Postscript
When I visited the coastal areas of eastern Japan after March 11, 2012, during the series of holidays that began at the end of April, I was simply stunned by the sheer force of nature and it's devastating effects. As an organization of patients with intractable diseases, I had no idea what to do or where to start regarding the support they needed after the disaster. Even the accident at the Fukushima No. 1 nuclear power plant left me stunned and humbled. The powerlessness and recklessness of the human attitude juxtaposed with nature does not compare. I was just perplexed by the challenge of what we could and should do as a patient organization.
The Intractable Disease Control Division, Health Bureau, Ministry of Health, Labor and Welfare requested that we collect memoirs, poems, haiku, and other works by patients and families with intractable diseases from the Sanriku coast. However, we were unable to locate the patients and their families, and were only able to collect a few examples by asking for cooperation from municipal offices and public health centers. (This commissioned project published reports over a two-year period.)
One day, a members of a patient group in Fukushima Prefecture said to me, "Fukushima seems to be fading away." I then immediately called on a few fellow patients to join me on a tour to experience Tohoku and Fukushima and see the situation through their own eyes, regardless of whether they were for or against nuclear power plants.
Guided by patient groups from Iwate and Fukushima who had already visited local authorities and patients, we conducted a tour of the Sanriku coast and the nuclear power plant evacuation area. The number of participants was much larger than planned. Our annual tour, which could be called a fixed-point observation, began at a hotel in front of JR Haranomachi Station in Minamisoma, which had finally reopened.
In March 2020, when we made our final tour, we were able to see a greatly changed picture of reconstruction. However, there were still some gates that had been sealed in contaminated areas where people were not allowed to return.
Houses collapse with each passing year. People's lives will never return to normal. Even though the elementary and junior high schools in that area seemingly stand still in time as they were then, the children will never return. I felt that people were slowly moving toward a new way of life. However, we also remembered that we must not forget to learn from history.
I would like to express my heartfelt condolences to the many victims.
We would like to express our sincere gratitude to all the patient groups that helped us prepare and execute this tour, to everyone who participated in the tour, and most of all to everyone who guided us and shared their horrific and painful experiences of the earthquake and tsunami. I also would like to thank everyone who worked on the compilation of the report.
Although this is the end of the tour by the Ministry of Health, Labour and Welfare's support program for patients with intractable diseases, I would like to continue my personal visits in the future.
(Editor in Chief: Tateo Ito)
Editorial board members
Tateo Ito, Director, JPA
Masaru Fujiwara, Former Director, JPA
Yukiko Mori, Director, JPA
Kunio Tsuji, Director, JPA
Osamu Koseki, Miyagi Patient Council
Yoshihiro Watanabe, The Fukushima Prefecture Council of Intractable Disease Organizations
Kyoko Yahaba, Iwate Prefecture Council of Intractable Diseases and Related Disorders
Kozue Hiyoshi, Secretariat, JPA
Keita Otsubo, Secretariat, JPA
Past publications related to the Great East Japan Earthquake by the Ministry of Health, Labour and Welfare's Support Program for Patients with Intractable Diseases
Research and Documentation Project "Patient and Family Voices Project"
It can be downloaded from the JPA website.
https://nanbyo.jp/earthquake/
Ministry of Health, Labour and Welfare (MHLW) subsidy for support projects for patients with intractable diseases
Visits to disaster-affected areas and support for patient groups
3.11 The Great East Japan Earthquake & Fukushima Firsthand Experience Tour 10 Years of Documentation
Published: February 10, 2021
JPA : Japan Patients Association
<Secretariat>
Japan Patients Association (JPA)
Iidabashi Hightown 610 Shimomiyabi-cho 2-28 Shinjuku-ku, Tokyo, 162-0822, Japan
TEL: +81-36280-7734 FAX: +81-36280-7735
Email: jpa@ia2.itkeeper.ne.jp
Website: https://nanbyo.jp/